Why recovery is real the missing link in fitness
I'll teach you how to unlock the power of recovery to train smarter and accelerate your conditioning, elevate your performance and improve your health.
When I was first starting out as a young coach in 2003, I thought my job was mostly to push people to train harder. The harder they trained, the better results they'd get and the happier they'd be. Or so I thought.
For some people, this worked. But for most, it only worked for a short time.
Sooner or later, they'd hit a frustrating plateau. Or worse, they'd start to feel nagging aches, pains, or even get injured.
Sound familiar?
After spending years digging into the science, using myself as a guinea pig and collecting a massive amount of data from over 15,000 people, it became crystal clear why the "No pain. No Gain" strategy doesn't work.
The truth that very few people understand about fitness is that training is only half the equation. In fact, it's not even the most important half.
What I discovered what the recovery, not intensity, is the missing link in fitness today. Progress isn't made in the gym. It's made when the body is able to turn on "recovery mode" and rebuild itself to be stronger, leaner, faster, and more fit.
Since my discovery, I've made it my personal mission to help people get the most out of their hard work by unlocking the true power of recovery. No more feelings of frustration, fatigue and endless intensity that never delivers the results you're looking for.
Proven over 15 years. Trusted by
top coaches and elite performers worldwide.
Hi, I'm Joel Jamieson, and I've spent the past 16 years learning everything I can about conditioning, recovery and high-performance fitness. My training strategies have been used by the industry's best coaches, biggest organizations and thousands of elite performers worldwide—including the Navy SEALs, UFC World Champions, and dozens of teams from the NFL, NBA, MLS, NCAA, and more.
Each year, more than 1,000,000 people from all over the world visit my 8WeeksOut site and my personal mission is to help each and every one of them reach their true potential through intelligent, science-backed training. I focus on holistic, personalized programs that tie together training, nutrition, sleep, recovery, movement, stress management and technology.
I created the Recover to Win seminar to give people all the knowledge, strategies and tools they need to create their own High-Performance Recovery and Conditioning plans. I'm excited to come to my family's home country of Scotland to share my unique approach to fitness and performance.
See you there!
- Joel Jamieson
Joel has worked with and been featured in:
I work with team sport athletes and wanted to learn how to write better programs and smoothly transition from one phase to the next. From Joel's certification, I got a better understanding of how to structure everything. I feel like I've grown tremendously in terms of understanding the application of not only specific methods but also when to utilize them.

JOHN AUGERI
I was confident with my knowledge before — but this course gave me a MUCH better lens to view programming and the whole concept of conditioning. Joel's certification was incredibly thorough, from training methodology and practical examples to using the correct tools and learning how to program on both a micro and macro cycle.

MIKE SUBACH
Joel is the best of the best — he ensured I understood the foundational principles of conditioning and how to program it more effectively. After finishing the course, I started to assess, test, and measure my clients' progress way more efficiently. Plus, based on what I learned, my own training has improved better than I could have imagined.

BRIAN MAHONEY
My proven training methods, and exactly 
when and how to use them to have the maximum impact
Training methods, not just exercises, are the cornerstone of every effective program. That's why we'll get hands-on and dive into a variety of different training methods designed to improve movement, breathing, conditioning, mobility and more.
The groundbreaking science that reveals why recovery and conditioning are the real keys to fitness and health
I'll share what the newest research says about recovery and conditioning and why most people are getting both totally wrong. We'll talk about the basics of energy systems, what recovery really is and how to use science of what works to improve your training.
How to get the win. My top 5 keys to training for maximum performance
Whether you're an athlete, coach, weekend warrior, or just train to look and feel your best, performance matters. Whatever your goals may be, we'll talk about how to build a performance-driven training and recovery plan that will get the job done.
How to leverage the power of the latest technology and use data to improve your training
Technology and wearables have taken over the fitness industry, but most people aren't getting the most out of it. With close to 20 years in experience using data to get better results, I'll let you in on my most effective tips, tricks and strategies to leverage data the right way.
My top recommended resources and additional materials so you can continue to learn
I'll give you my best go-to resources, the same ones I use, to help you continue to learn after the workshop is over. I've put together a list of the very best in training, nutrition, sleep, rehab, and just about every area of fitness that can help you reach your goals.
Answers to all your training questions during live Q&A
During the live workshop, there will be plenty of time for questions and answers. You'll be able to ask me anything you want to know, from recovery to conditioning to building a coaching business and anything else. I'm there to help.
How to use recovery and conditioning to build your fitness business
If you're a coach, trainer, or fitness professional of any kind, you know the importance of building your business. I'll cover how I've used built mine using programs built around conditioning and recovery and how you can do the same.
Course location and details
The Recover to Win course will take place over two days. Each day will include a combination of lecture and practical, hands-on experience.
You can choose to register for either day, or both. It is not required to attend both days in order to come to the workshop.
Dates: July 13th and 14th, 2019
Location: Edinburgh, Scotland
Venue: LIFT Gym

Each day will include two sessions. The first is 9:30am - 12:30pm, followed by a lunch break from 12:30 - 2:00pm. The second session will be from 2:00 - 5:00pm. Everyone is invited to a group dinner after the end of each day.
How to build the Ultimate High-Performance Recovery Program
So many people focus all their energy on training, without understanding that recovery is the real key to getting the most out of all their hard work. On Saturday, we'll dive deep into the underlying science of recovery and how to put together your own complete High-Performance Recovery Program.
Along the way, I'll discuss and demonstrate how to use Morpheus, my recovery platform (included with the workshop at no additional cost). By the end of the day, you will walk away with a complete plan of attack to maximize your recovery and dramatically improve your fitness and health.
You will learn:
How to quickly and easily assess the 5 major elements that drive recovery using my personalized screen
The science behind heart rate variability (HRV) and how you can use it to personalize your training in just 3 minutes a day
A step-by-step guide to using Morpheus and heart rate training to accelerate recovery and get the most out of each workout
The 5 most effective strategies to help manage the stress of daily life and improve your overall health and well-being
The truth about which regeneration strategies can help accelerate your recovery and which ones are a waste of time
Conditioning for health, fitness, and maximum performance
Conditioning can be a game-changer. Not just for athletic performance, but for health and longevity as well. Recent research has shown that higher VO2 max (a measure of conditioning) is directly related to overall life expectancy.
Whether you're an athlete, coach, or just train for fun and fitness, I will teach you how to improve your conditioning from the ground up. We'll cover energy systems, conditioning methods, heart rate training and how to build a conditioning program that delivers results.
3 simple tests and assessments you can use right away to evaluate your conditioning and how to interpret the results
The truth about the body's three energy systems and how they impact your conditioning, performance, and health
My top 10 conditioning methods and how I use periodization and progression to maximize results
The most effective strategies to prepare for competition and make sure you're ready to perform your best when it matters most
Why traditional heart rate zone training is outdated and how to use Morpheus to dial in your intensity
What's included with Recover to Win
One or two days (your choice) of lecture and hands-on practical experience
Join us at the LIFT gym in Edinburgh, Scotland for either one or two days of lecture and hands-on training. Each day will be filled from start to finish with top level discussion, practical experience, questions and answers and more.
Learn how to accelerate your recovery, improve your conditioning, and get more out of your training. Meet other like-minded coaches and fitness enthusiasts from the UK and beyond. Each day will conclude with a group dinner and a chance to make new friends and build lasting relationships within the fitness community.
Your own Morpheus recovery system with the new M5 band (£113 value)
Morpheus is the world's first digital recovery coach and the complete system is included with your registration. You'll get the brand new Morpheus M5 band, the mobile app on iOS or Android, access to the private Facebook community and more.
Morpheus tracks your activity, training, sleep, and HRV and analyzes the data to tell you what it all means. Throughout the workshop, I'll cover exactly how to put Morpheus to work in your training to to improve your recovery, conditioning, and health.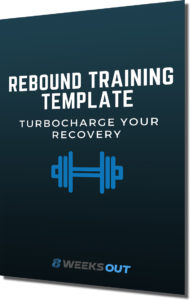 Printed course workbook with sample training templates and programs
Your workshop registration includes a printed workbook with all the presentation slides, notes, additional resources, training templates, programs, and more. Keep track of everything you learned in the course and get everything you need to start applying the methods, techniques and strategies right away.
Lifetime access to the complete Recover to Win online video course (£152 value)
With your workshop registration, you'll get lifetime access to the online version of the entire Recover to Win course. Go back through the videos at your own pace and review everything that was covered during the workshop and more.
Certification of completion
To recognize your participation in the Recover to Win course, you'll get a signed Certification of completion at the end of the workshop. Share it with your friends, family, colleagues and clients. Let the world know you're ready to Recover to Win!
Frequently Asked Questions
Who is the workshop for? Is it only for coaches and trainers?

The Recover to Workshop is for anyone that is serious about improving their recovery, conditioning, health and performance. It doesn't matter if you're a top level athlete or coach, weekend warrior, or just love to train and want to get better results.
No special background, education, or credentials are required to get the most out of the workshop. I'll dive into complex topics, but focus on the most important part: application.
My workshops are usually include a variety of people with different goals and ambitions and anyone that wants to learn and get the most out of their training is welcome.
Do I have to register for both days, or can I just come to one?
You can choose to come to either day, or both. The choice is completely yours.
If you only have one day available, or you only want to focus on either recovery or conditioning, then you can choose to attend just one of the two sessions. If you want to dive into both, you can register for the entire weekend.
All I ask is that you come ready to learn and have fun.
Is this just a lecture, or will there be a hands-on portion too?

The course will be comprised of both lecture and hands-on practical material. Both days will be approximately 50/50 of each.
It's important to understand the principles and theory so that the application makes sense. For the practical portion, we'll progress through a variety of breathing drills, mobility exercises, conditioning methods and more.
If you have any injuries or limitations, you can simply observe any areas that you may not be able to participate in.
Space is extremely limited. Reserve your spot now.
An investment in your fitness, health and performance
You put hour after hour of hard work in the gym. You read everything you can find about training, nutrition, supplementation, injury prevention and more. You're already investing a huge amount of time and money into your fitness, but you're not achieving as much as you could be.
The Recover to Win workshop is designed to help more out of your training program by tapping into the power of recovery. Get better results without spending more time in the gym, more money on nutrition and supplements, or putting more wear and tear on your body.
A reserved spot for one or two days of the live Recover to Win workshop with Joel Jamieson in July
Includes a mixture of lectures and hands-on practical application that will teach you how to design accelerate your recovery and elevate your conditioning
Printed course workbook with sample training templates and programs
Use the workbook to takes notes and review printed copies of all handouts, additional resources and supplementary materials to refer back to again and again
Lifetime access to the complete Recover to Win online video course (£113 value)
The learning doesn't stop once the workshop is over. Access the complete online version of Recover to Win to unlock additional content and even more training strategies
Your own Morpheus recovery system with the new M5 band (£113 GBP value)
Morpheus is the world's only digital recovery coach. Get the complete system, including the brand new Morpheus M5 band.
Certification of completion at the end of the workshop
At the end of the day, you'll receive a printed certification that lets everyone know you've completed the Recover to Win live workshop.
Space is limited to just 30 people. Don't miss out.
Please Note: Prices in shopping cart will be displayed in USD
Click the button below to select which days you'd like to attend:
My Guarantee: Come to the Recover to Win workshop and if doesn't deliver everything as promised, I'll give you your money back
My goal is to help you take your recovery and conditioning to the next level – and I fully believe the Recover to Win workshop will help you get there. Come to the workshop and then put everything I'll teach you to the test for 30 days. If the principles, strategies and methods I'll cover don't deliver results and improve your fitness, I'll give you a full refund.